Products tagged with 'fruits'
3 Items in Grid
4 Items in Grid
List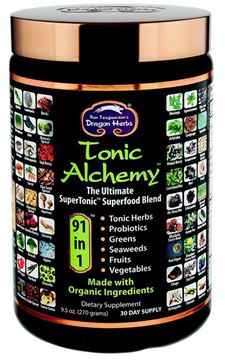 THE ULTIMATE BLEND - Tonic Alchemy™ is your daily assurance for a perfect diet. With 91 amazing ingredients, TA is a chemical–free product, it contains 71 certified organic herbs, vegetables, superfoods, superfruits and super–sprouts. Besides these certified organic ingredients, TA contains 20 wildcrafted (collected in the wild) major tonic herbs all of which are sourced from remote regions across the world and are crystal clean.

•100% PURE VEGAN - The ingredients in Tonic Alchemy™ have been collected from the highest mountains in the world (including the Himalayas, Heaven Mountain, Changbai Mountain, the Ural Mountains, etc.), from remote deep blue oceans, and from pristine forests, deserts and jungles throughout the world. Only the finest available ingredients are included in Tonic Alchemy™.

•STRENGTHEN IMMUNE AND DIGESTIVE SYSTEMS - Tonic Alchemy™ is a broad superfood supplement that will change your life for the better. Your cells, tissues, organs and systems will be nourished every day.

•DELICIOUS - Tonic Alchemy™ is delicious and easy to prepare. You will look forward to each opportunity to enjoy this life-giving superfood matrix. Every serving is a step toward radiant health, including the potential anti-aging effects.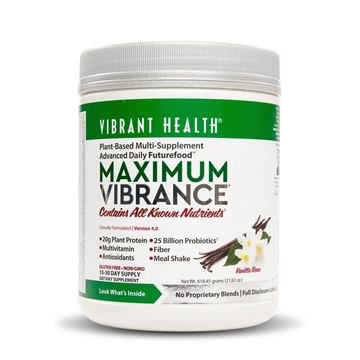 Maximum Vibrance is known as a Futurefood™ because it contains all the benefits of a green superfood plus high antioxidant fruits and vegetables, a meal's worth of plant protein, and an organic, plant-based multivitamin. 
Multivitamin, green food, and antioxidant supplement
20 grams of protein per serving
25 billion probiotics per serving