Products tagged with 'immune function'
3 Items in Grid
4 Items in Grid
List

Our Flax Oil for Animals Supports: Healthy growth & development Improved immunity against infection Increased quantity & quality of milk in lactating animals A full, shiny coat Improvement of dry, patchy skin & dandruff Increased bone strength Healthy vision & relief from dry eyes Non-GMO & Kosher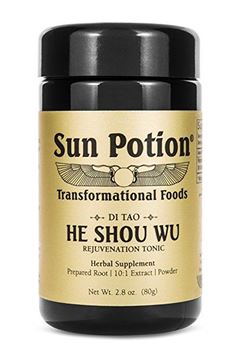 SUPERIOR BLOOD AND LONGEVITY TONIC He Shou Wu has a history of use as a longevity, anti-aging, blood-building, beauty, & rejuvenation food

FO-TI SUPERIORITY May tonify and nourish the blood, hair, skin, nervous system, sexual center, Shen or Spirit, and Jing or primary essence life force may help reduce cholesterol

A POTENT EXTRACT POWDER This is a 10:1 Extract of the Prepared He Shou Wu Root. Good for resistance to cold, promotes red blood cells, enhances immune function, increases antioxidant activity

OUR SOURCE Wildcrafted in the "Di Tao" Region of Origin in China. Contains 80g ~ 50 Servings. Mix 2 grams in water or tea or enjoy by the spoonful.

100% SATISFACTION GUARANTEE Sun Potion products are made in the USA by strict GMP guidelines in an FDA approved facility. We are 100% confident and stand behind the quality.