Products tagged with 'emotional equilibrium'
3 Items in Grid
4 Items in Grid
List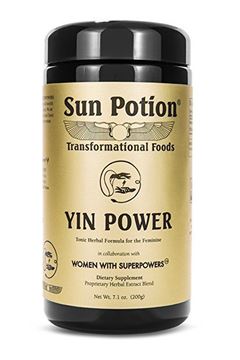 Organic, Wildharvested Tonic Herbs for Women (and Men!). May Suppor

Sun Potion YIN POWER BENEFITS and may support immunity, energy, hormonal balance, mental clarity, stress relief, cellular regeneration, radiance, healthy circulation, emotional equilibrium, creative energy, and libido.

OUR SUPERFOOD LOVE NOTE An organic blend of wild harvested herbs, crafted to nourish feminine energy for all the powerful mothers, sisters, daughters, teachers and healers in our global community.

WOMEN WITH SUPERPOWERS has partnered to bring you the highest quality tonic herbs and energetically charged formulation of ashwagandha, tocos, reishi, he shou wu, pine pollen, astragalus, and pearl powder.

AN EXCELLENT ADDITION Add 1 tsp to water or your favorite tea for a simple Tonic. Also excellent blended into smoothies, shakes, raw chocolates, warm potions, coffee, and elixirs!

100% SATISFACTION GUARANTEE Sun Potion products are made in the USA by strict GMP guidelines in an FDA approved facility. We are 100% confident and stand behind the quality. We believe the added health benefits of the product will make you feel as great as it does us or your money back!